Wood Vents ~ Wood Registers
Hardwood Flooring is a distributor of
high quality flooring products including wood vents
& wood cold air returns.



Wood Vents, Wood Registers, Returns





Precision engineered using the finest exotic and domestic hardwoods available.
These exceptional crafted wood vents, wood registers, and wood cold air returns are engineered to provide the highest strength and lasting beauty.

Self-Rimming Wood Vents
Self-rimming style wood vent, shown in Eastern Hard Maple.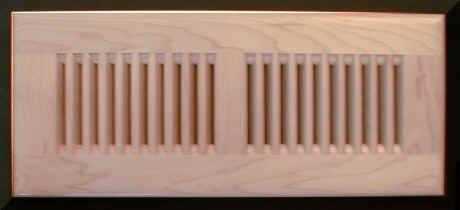 One of the most popular wood vent models.
High quality louvered vents, sized to fit any opening.
(carpet, tile, parquet, sheetrock, hardwood).
These high quality, well-designed wood vents are designed
to replace those unsightly metal registers of the past.

Flush Mount Vents
Shown in unfinished Brazilian Cherry.





This flush mount wood vent model sits flush with the wood floor surface.
This wood vent sized to allow a 1" ledge on each side around the duct opening.
Available with or without standard frame.

Pre-frame Vents
Made of Bamboo.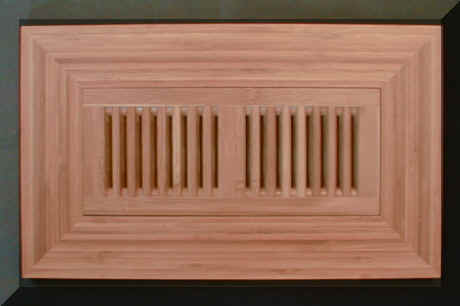 Rabbeted pre-frame wood vents give you the cleanest look possible.
Available with a 2-1/4" or 1-1/2" frame size.
These wood vents are esthetically pleasing and easy to install.

Wood Cold-Air Returns
Shown in self-rimming style made of unfinished red oak.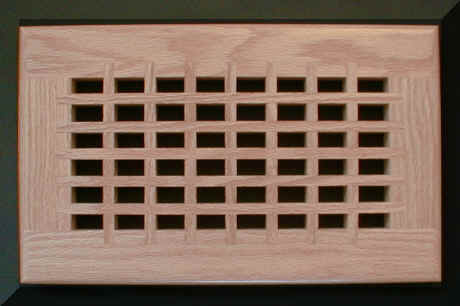 "Grid" styles, available in standard and custom sizes.
These wood registers are used for wall, floor, ceiling and many other creative applications.
These wood registers are available in self-rimming,
flush mount and pre-frame styles.
Hardwood Flooring Vents Distributor, Wholesale Hardwood Flooring Vents, Wholesale Flooring Vents Distributor, Wood Vent Register Distributor, Wood Floor Registers, Limerick, Philadelphia, PA, Pennsylvania, Delaware Valley, New Jersey, Delaware, MD, 19464, and 610, 215, 302, 856 area codes.