Authentic Pine Flooring Inc. TM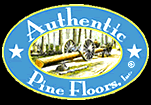 Authentic Pine Floors Inc. TM
Hardwood Pine Flooring
Authentic Pine Floors Inc. offers the highest standards of grade selection and precision milling processes, Authentic Pine Floors Inc. has an extensive line of finished heart pine, finished wide planks and long lengths.
Superior products and assured moisture levels, are the hallmark of Authentic Pine Flooring Inc.
Harvested in America, the products are conveniently packaged and shipped and consistently priced.
Classic Natural Heart
Pine Flooring
Aging to a beautiful red patina with time, the natural color of heart pine flooring offers true ease of care.
Golden Isles Heart
Pine Flooring
Prefinished heart pine floors can alleviate the stress in your remodeling project.
Olde World Hand Scraped Rustique Collection TM
Heritage Hand Scraped Rustique Collection TM

Pine Flooring Collections
Each board is hand scraped and hand finished to make your pine floor "one of a kind." The unique character of this pine flooring gives off warmth and charm to any home.
Pine Flooring Wholesale Information, Wholesale Pine Flooring, Wholesale Pine Flooring Information, Pine Flooring Information, Wholesale Pine Floor Information, Limerick, Wholesale Flooring Information Philadelphia, Wholesale Flooring Information PA, Flooring Wholesale Information Pennsylvania, Wholesale Flooring Information Delaware Valley, Montgomery County, Berks County, Delaware County, Philadelphia County, Chester County, Wholesale Flooring Information New Jersey, Wholesale Flooring Information Delaware, MD, 19464, 610, 215, 302, 856
Hardwood Flooring Co.
Wholesale Pine Flooring Informations Information
Wholesale Pine Flooring, Wholesale Pine Flooring Information, Pine Flooring Information, Wholesale Pine Floor Information, Limerick, Wholesale Flooring Information Philadelphia, Wholesale Flooring Information PA, Flooring Wholesale Information Pennsylvania, Wholesale Flooring Information Delaware Valley, Montgomery County, Berks County, Delaware County, Philadelphia County, Chester County, Wholesale Flooring Information New Jersey, Wholesale Flooring Information Delaware, MD, 19464, 610, 215, 302, 856